THE 10 BEST FISH OILS IN SINGAPORE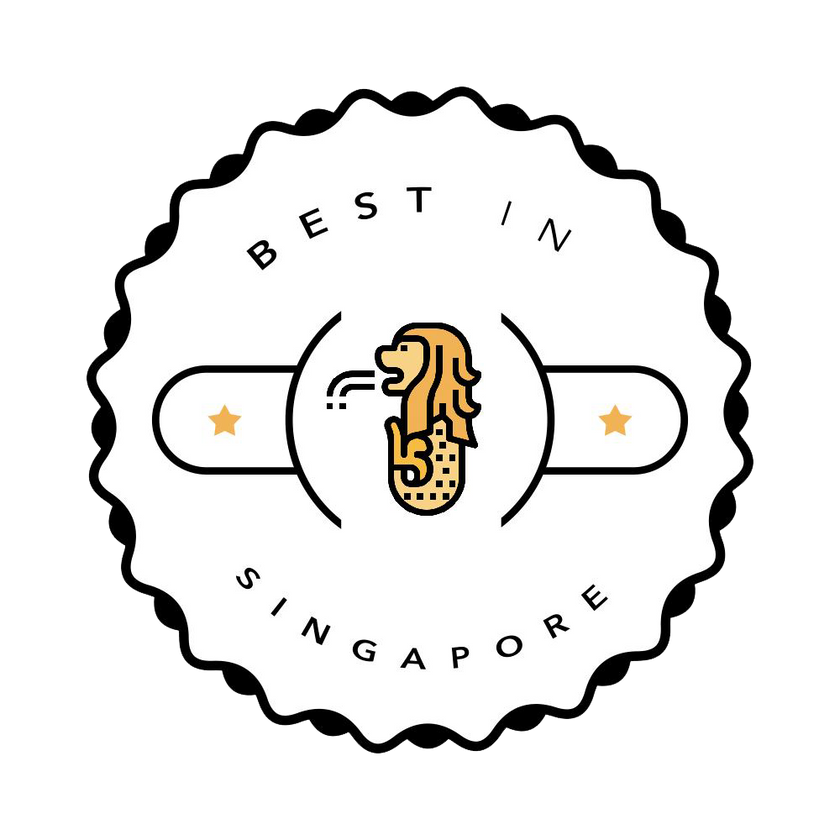 Fish oil supplements are known to be the most beneficial supplements nowadays. They're filled with Omega-3 fatty acids that can strengthen our heart, mental, skin, and eye health, among other things.
But how can you be sure that you're taking the right kind of supplement? For one thing, we've listed our picks for the best fish oil supplements in Singapore right here. However, to make sure you know how to pick the right one for yourself, you need to know first which factors to consider when buying one.
How to Choose the Right Fish Oil Supplement
There are countless fish oil supplements in the market and each one offers different health benefits. Let us help you find the right one with our buying guide below.
1. Forms
First of all, you must know that fish oil supplements come in varied forms, namely, triglyceride, ethyl ester forms, and reformed triglycerides.
Triglyceride forms come from natural fish oil and are also considered the most easily digestible and most effective form for absorption.
Meanwhile, the ethyl ester form is made when fish oil is processed, thus eliminating contaminants like mercury, lead, and other sea pollutants. They're cheaper but they're more exposed to oxidation and less absorbable.
Lastly, reformed triglycerides are composed of processed fish oil that's converted back to natural triglycerides to achieve better absorption.
Therefore, for enhanced effectiveness and absorption, it's best to choose a supplement that contains triglycerides or reformed triglycerides.
2. Formulations
Aside from having different forms, they're also categorised into two distinct formulations including capsules and soft gels. These formulations conceal the foul smell of fish oil, making it easier to swallow.
Capsules don't break down in the mouth, so despite the bitterness of the supplement, you won't be able to taste it.
On the other hand, soft gels are made of gelatin and liquid ingredients, making them more flexible than capsules. So, you might get a mild taste of the supplement from the soft gel casing.
Both can be made from fish gelatin, bovine gelatin, or vegetable-based ingredients.  For those who can't take bovine gelatin for dietary, cultural, or religious reasons, it's recommended to choose marine-based soft gels or vegetable capsules.
3. Purification
As mentioned earlier, some supplements contain toxic chemicals that are due to marine pollution. This is one of the biggest concerns of many consumers when buying fish oil products.
Therefore, it's wise to look for supplements that are extracted from small fish like sardines and anchovies. These fish are lower on the food chain and have a shorter lifespan, accumulating fewer contaminants during their lifetime.
Purification is done to secure a clean fish oil supplement. Molecular distillation is the golden standard when it comes to purifying fish oil.
Since the level of purity is determined by the supplements' source, fish oil must be certified by a sustainable fishery as well.
4. EPA and DHA
The actual omega-3 content of the fish oil can be seen in the total EPA and DHA of a supplement. These active ingredients vary from product to product and they're usually labelled on the front of the packaging, supplement facts panels, or ingredient list.
Most health organizations recommend a minimum of 250-500mg of EPA and DHA combined each day. Take note that the higher amounts are usually recommended for specific health conditions.
So, it's better to consult with your specialist or dietician before you buy a supplement.
Best Fish Oils in Singapore
It's now time to look for the best fish oils in Singapore for your health needs! See our list below, as we've gathered some of the top-recommended fish oils, perfect for the whole family!
1.   Nordic Naturals Ultimate Omega Fish Oil
Price: $107.80
The Nordic Naturals Ultimate Omega Fish Oil is made of high-quality and potent Omega-3s from 100% wild-caught sardines and anchovies. It offers health benefits for the immune system, brain, and heart, providing optimal wellness.
The soft gels are  easy to take and have no fish aftertaste. Instead, they have a fresh lemon taste that feels light in the mouth. This one has a total of 1280mg EPA and DHA combined and other Omega-3s — fairly high for adults.
This award-winning supplement has triglyceride forms, making it highly absorbable. The multiple health advantages, high amount of Omega-3s, and certified purity are the reasons many doctors recommend it as one of the best fish oils in Singapore.
Pros
Made from sardines and anchovies, which means lower chance of mercury content
Highly absorbable
Fresh lemon taste
No fishy aftertaste
Contains high-intensity Omega-3s
Non-GMO verified supplement
Third-party purity tested
Cons
Quite expensive
Large soft gels
Pills can be little sticky
Customer Reviews
The Nordic Naturals Ultimate Omega Fish Oil has earned positive reviews from customers. They said that the supplement truly has high-concentrated fish oils and that the flavour is palatable.
Though it's pretty costly compared to the other supplements, users said that it's all worth it. A customer posted this feedback:
"I really really like these ultimate omega-3 supplements. I was a little hesitant to try them because I've had reactions before with other natural ones. But I've had no reaction and I feel good on these. I've been taking them for over a month. I take these for my heart although I have not been diagnosed with anything. I know it helps because I feel so much better and have more energy . They also help my joints. I was battling some tendonitis and some lower wrist pain at the joint. After taking these for over a month I have virtually no pain. Only occasionally if I turn my wrist wrong. All without doing anything else but taking this supplement. I used to have to wear a brace for my hand and wrist and now I don't have to wear one. I have just bought my second bottle in a larger quantity because I will continue to use these. I love the fact that you can check out the purity of the product online. They are independently tested and made from wild caught fish oil not farm raised."
2.   Blackmores Omega Triple Concentrated Fish Oil
Price: $55.00
For athletes and fitness enthusiasts who often experience body pain due to extreme workouts, the Blackmores Omega Triple Concentrated Fish Oil can help boost inner and outer body strength, preventing frequent body aches.
It provides fast muscle recovery and promotes muscle growth, ensuring that your body will be able to handle all kinds of exercises.
Aside from maintaining heart health and healthy blood fats, it also helps relieve inflammation and symptoms of mild arthritis, so it can also be a good choice for elderlies.
This one features an enhanced amount of Omega-3s, containing 900mg of combined EPA and DHA — triple the Omega-3s of a standard fish oil capsule of the brand!
Similar to the previous option, it's extracted from wild-caught small fish, comes in triglyceride form, and purified with a specialised process that's rigorously tested for contaminants like mercury, dioxins, and PCBs.
With this supplement, there's no need to worry about taking your fitness routine into the next level!
Pros
Helps relieve mild joint inflammation and symptoms of mild arthritis
Maintains healthy blood fats and heart health
Speeds up muscle recovery and boosts muscle growth
Extracted from small fish, so low risk of toxin content
Odourless
Cons
Larger capsules
Can be hard to swallow
Customer Reviews
Customers were mostly impressed with the long-term relief provided by the Blackmores Omega Triple Concentrated Fish Oil. Some customers even mentioned that they've been using the supplement for years.
Some believe this means it's the best fish oil in Singapore, especially for those who have an active lifestyle. A customer wrote this review:
"I've taken a fish oil supplement for many years to help with the pain of an arthritic knee, normally I have to take up to six capsules a day but with the concentrated Omega Triple I get the same effect taking one morning and night. The capsules are large and can be hard to swallow sometimes but overall a great product that I would recommend to others to help with joint pain."
3.   Swisse Ultiboost Odourless High Strength Wild Fish Oil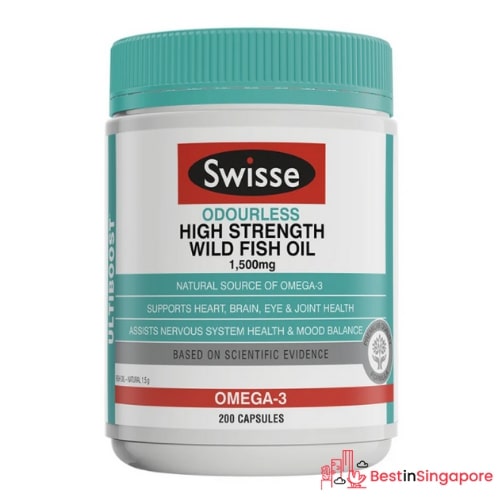 Price: $29.53
If you're searching for a supplement that can support the overall health of your parents, grandparents, or other elders in the family, you should definitely consider the Swisse Ultiboost Odourless High Strength Wild Fish Oil.
This fish oil supplement doesn't only have 1500mg of Omega-3s: it also has Vitamin E, offering a wider range of health benefits. It helps strengthen joints, heart, eye, and brain health, ensuring optimum wellness of bodily functions.
Being one of the top-selling supplements in the market, it's also 1.5 times more potent than most fish oil supplements — boasting stronger health support. It's processed with premium-quality and sustainably sourced formula and triglyceride forms.
Pros
Easy to swallow
No fishy odour
Multi-nutrient and sustainably sourced formula
Odourless
Doesn't leave a fishy aftertaste
Cons
Not suitable for vegetarians
Large capsules
Bottle size is not travel-friendly
Customer Reviews
The Swisse Ultiboost Odourless High Strength Wild Fish Oil has gained lots of favourable remarks because of the nutrient value it offers.
Users also mentioned the balanced ratios of EPA and DHA and excellent absorption, claiming that it's the best fish oil in Singapore.
A customer shared this experience:
"I had been meaning to buy fish oil capsules and finally got my hands on these Swisse ones. I was surprised to see such a big jar which has 200 capsules. I take one capsule daily for my overall health although different doses are recommended for different purposes (mentioned on the jar). The capsules are quite big in size and hold good nutrient value. They are odourless and do not leave a fishy aftertaste. Very happy with the product. Totally recommended!"
4.   Nordic Natural Omega-3 Gummies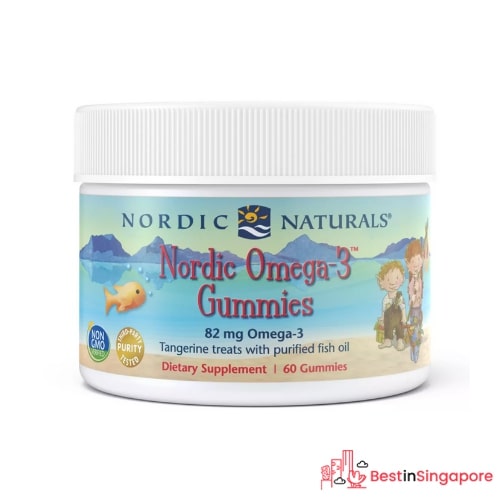 Price: $45.90
For the parents out there who are looking for a supplement suitable for younger kids, you must check out the Nordic Natural Omega-3 Gummies! These gummies are tasty, chewy, and nutritious treats that kids will definitely enjoy!
It has a fair amount of 82mg Omega-3s, which is a good level for kids aged 2 years old and above. It also has a tangerine flavour, leaving no fishy aftertaste, so the kids can easily get used to it.
It's made without any preservatives and artificial colouring, providing healthy and non-toxic capsules. Moreover, it's also free of gluten, yeast, and dairy, reducing allergy risks.
This best fish oil in Singapore will surely satisfy the cravings and nutritional needs of your kids!
Pros
Chewy treats
Tangerine-flavoured gummies
Free of gluten, yeast, and dairy
No artificial colourings and preservatives
Cons
Customer Reviews
Many parents shared that their kids loved the Nordic Natural Omega-3 Gummies because of the fish-shaped capsules as well as the fruit smell! Some said that it truly helps with concentration and brain development.
A customer gave this review:
"This stuff is great for my kiddo. She needs omega 3. When she takes this regularly, the little bumps on the back of her arms go away and she is in a better mood. When she was in the hospital with HUS and on dialysis they were giving her omega 6 and she didn't start to improve until I started giving her these omega 3 gummies. I believe they definitely played a part in her turning the corner and getting better. There was a close correlation"
5.   GNC Triple Strength Fish Oil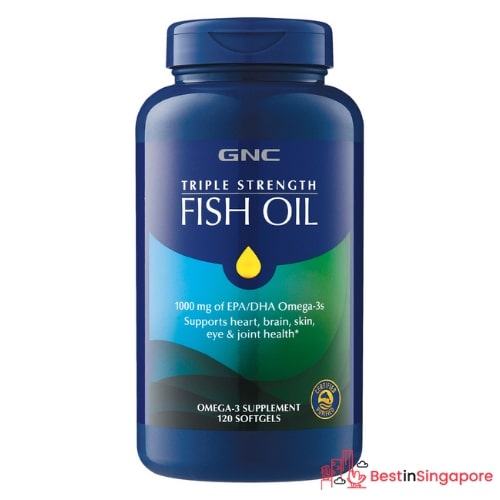 Price: $57.90
The GNC Triple Strength Fish Oil offers a strong boost for optimal eye, heart, brain function, skin, and joint health.
Due to its high potency, it can also help maintain blood circulation and reduce inflammation.
Similar to the previous option, it's also made without artificial colours, flavours, preservatives, wheat, corn, dairy, and starch. However, this one has no sugar.
Its soft gel form comes with an enteric coating that controls fishy burps to provide more Omega-3s and eliminate unpleasant aftertaste. It also consists of purified ingredients from deep ocean fish, reducing contaminants.
Pros
Has triple-strength fish oil
No fishy burps
No sugar
Free of sodium, gluten, and cholesterol
High-potency
Odour-free and tasteless
Cons
Can be hard to swallow
A little pricey
Customer Reviews
Customers mentioned potency and purity as the top reasons the GNC Triple Strength Fish Oil is one of the best fish oils in Singapore. They also shared that the supplement helped relieve their knee pain, dry skin, and even dry eye conditions.
A customer left this feedback:
"I have tried several different fish oil supplements in the past, but this is THE ONE. My mother-in-law recommended these to me because I couldn't find any that didn't cause the "fish burps". Not something you want when having to wear a mask all day!! I bought these and I am beyond satisfied. I take omega-3s to help with my knee pain, and these supplements have made a huge difference. I have patellar tracking issues and work on concrete factory floors five days a week. I used to have to wear knee braces to work but since taking these I don't need them anymore. I also noticed if I skip a weekend the pain is back on Monday so I make sure to take one every day. My chronic back pain has improved too. Another plus is that the serving size is only one capsule daily, whereas other brands I've tried say to take 1 or 2 capsules three times a day. I don't have the time for that and I don't want to be hauling my supplements with me everywhere I go. That said, they are a little bigger than some other fish oil brands but I have no problem with swallowing them. Bottom line, if you're in the market for omega-3 fish oil supplements, this is the way to go. They may seem a little pricier than some but it's worth it for the quality and for them being a once-daily."
6.   Omega 3·Pro
Price: $28.00 (discounted to $18.20)
TruLife's Omega 3·Pro contains two times more EPA and DHA compared to other brands. It can also help you avoid intaking too much mercury from natural sources of Omega 3.
Omega-3 fatty acids are essential in helping you avoid or manage heart disease. EPA, meanwhile, helps develop and maintain one's cognitive skills.
It comes in soft gel form, perfect for easier consumption and faster absorption. You won't experience any discomfort after taking this supplement.
Pros
Perfect for pregnant/nursing women
Helps prevent and manage heart disease
Helps avoid higher mercury levels
Contains 2x more EPA (360mg) and DHA (240mg) than regular mass-market brands
Cons
Comes only in capsule form
Price: $68.00 (discounted to $47.60)
Make sure that your family gets their needed dose of supplements for healthier skin and hair and an overall glow in appearance, buy a bottle of Ocean King's Deep Ocean Fish Oil that's packed with Omega-3 and added Vitamin E!
It contains concentrated source of Omega 3 marine triglycerides, as well as EPA and DHA fatty acids, which is exactly what can aid you for a more balanced diet. What's more is that this fish oil also provides relief joint of pain.
Have it delivered to your home in no time, check it out on the website while it's on sale!
Pros
100% natural and authentic
No fishy taste
Worth the price
Cons
8. Green Pasture Blue Ice Fermented Cod Liver Oil Blend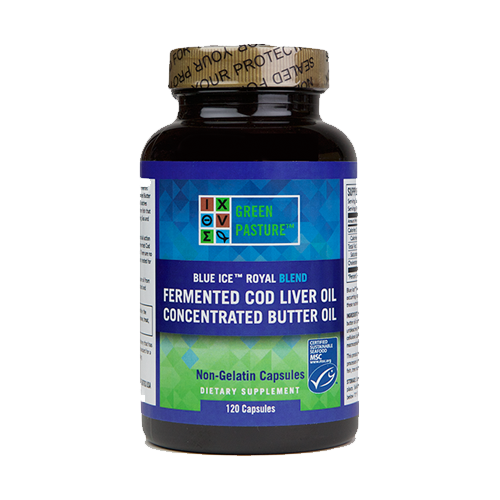 Price: $77.90
9. Kordel's rTG OMEGA 3 + VITAMIN D 60s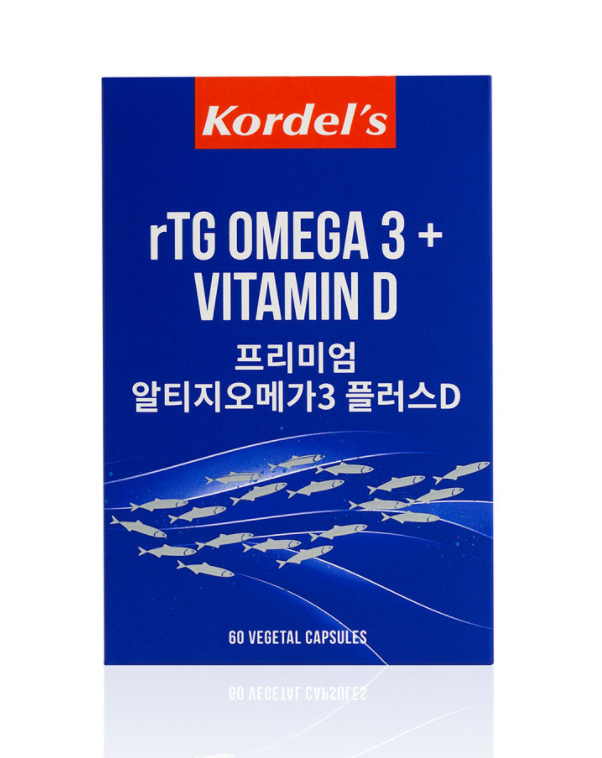 Price: $88.00
Next on our list is Kordel's rTG Omega 3 + Vitamin D capsules. These capsules are made with Re-Esterified Triglycerides, Cholecalciferol, and of course, concentrated fish oil obtained from anchovies and sardines.
We recommend the rTG Omega 3 + Vitamin D because it helps rejuventate the body, and has a superior absorption rate. Plus, it has a high EPA and DHA concentration of up to 80%, making it ideal for intensive support for eye, brain and cardiovascular health.
Aside from that, the rTG Omega is enriched with Vitamin D, allowing for better calcium intake that results in healthy bones.
This 2-in-1 formula comes in a handy blister pack, convenient for daily use.
10. Rosita Extra Virgin Cod Liver Oil Liquid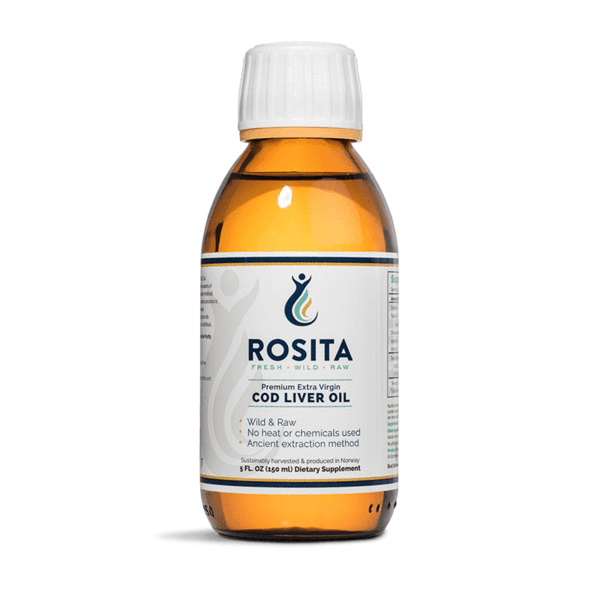 Price: $69.00
Rosita is a family company that was born in the remote areas of northern Norway. What's great about them is that they bring their ancient tradition of fresh fish oils to the market.
In comparison to other companies, their exclusive cold process artisan method extracts the oil and preserves the delicate nutrients that are naturally present in wild cod livers. With nitrogen flushed in their bottles, oxidation does not occur during shipment.
Their method of filtration takes off more of the fish it is a protein but retains the beneficial fats and all-important natural vitamins needed by our body. This makes their cod liver oil liquid have a mild taste.
Aside from this, if you are planning to stock up, long-term storage for open bottles is one year in the fridge and three years if it is in the freezer. Unfortunately, once opened, you must keep it in the fridge and consume it within 3 months.
Source: Best in Singapore
Link to the original article: 
https://www.bestinsingapore.co/best-fish-oils-singapore/#10_Rosita_Extra_Virgin_Cod_Liver_Oil_Liquid